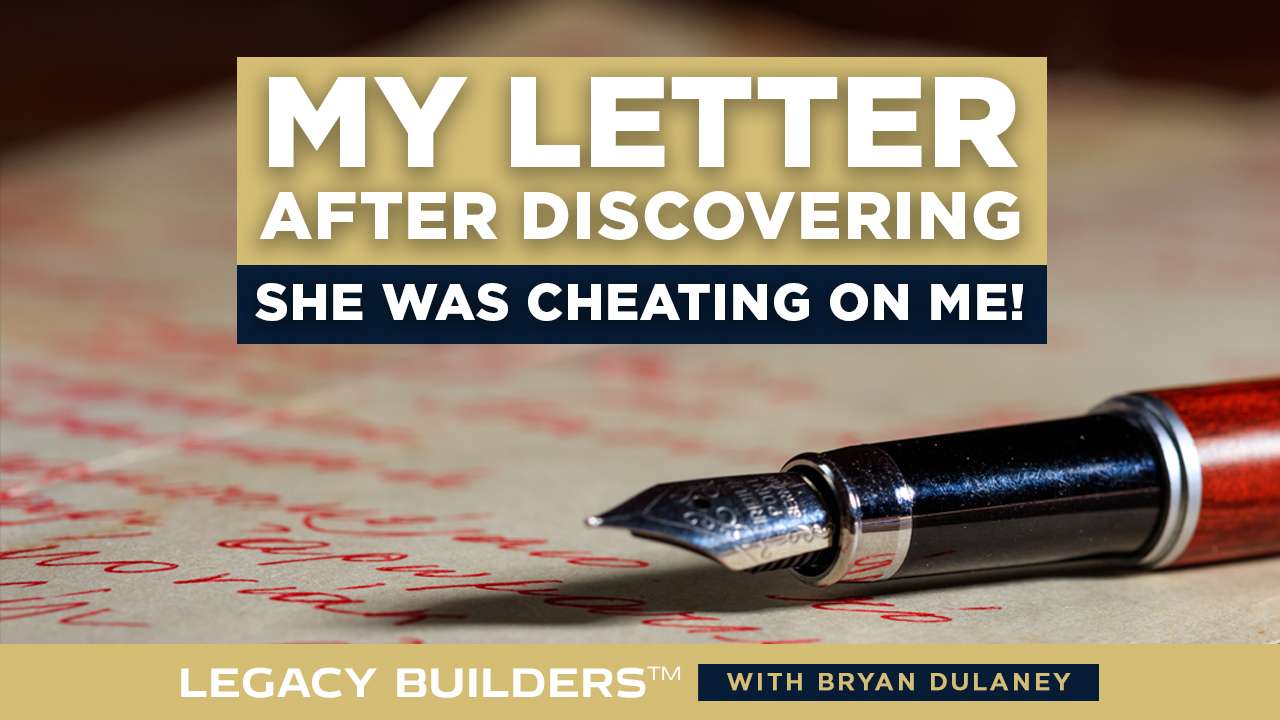 This is my letter to my ex-girlfriend who I was with for 3 years, after discovering that she was cheating on me while I was away growing a business and our future.
Watch this video to understand the backstory and context of this letter that God inspired me to write and then share with you back in 2013…
Get my book, The Entrepreneur Evangelist, where I go deeper on my story and discover The Ultimate Secret To Success and the 3-step process God brought me through to hear his promptings and be guided by His voice.
There is nothing that trumps it.
When Russell Brunson asked me to share the secret to my success to his highest level mastermind members, I shared the formula that I shared in my brand new book.
You can get a copy of the book and you can read Russell Brunson's forward here.
Get Your FREE Copy here:
www.EntrepreneurEvangelist.com
Letter to Karen:
Karen,
I apologize for ignoring the nudges and did NOT turn my love for you up. I'm sorry. I understand why you did what you did, I was not giving you the attention and LOVE that you need in order to Be Happy.
I only and purely desire you complete Happiness.
I am sorry that I was not present at those times. I love you with all of my heart, all of my mind and with all of my Soul. I've told you that since day one… as soon as I saw you at Legends, that you were special, we were connected and that if we completely let our guards down and truly opened up… if we fully loved one another, we would be Happy right now.
I'm sorry that I did not man up enough and overwhelm with love… like I did in the beginning of our relationship. You were my support system, you were my love, even though I saw us as partners for life. My spirit cries, it aches, it hurts… for your LOVE. It really does.
Even if God has something better than I, think or imagine.. I will love you FOREVER. You are part of my soul and I desire to keep the best memories, only the memories that bring happiness and put a smile on my heart.
Those I will cherish, those I will remember. Our weeks at Ocean City Maryland, our Trip to Hawaii for 2 months where we swam with Dolphins. I will cherish all of those memories from Hawaii. I only wish I would not have resisted, I wish I would have let go and trusted fully.
Karen, I LOVE YOU and I always will, no matter what. I pray for Happiness for your soul. I am sorry that I did not show you my love, fully. I held back, because there was this constant NAG in my spirit about your ex. It bothered me and I've just never expressed it verbally to you.
All of my LOVE,
Bryan
… It is what held me back though. It's the reason. You were never ready to fully love me, the way that I desire, without constraints, with a pure and honest heart. A clear conscious looking into the future, and that's okay, because everything happens for a reason.
God is perfect, all knowing… and He allows things to happen, whatever that reason may be?
I saw us together forever. It's going to be difficult to not feel your love, your compassion, your generosity. It's going to be a challenge. In so many ways you were my rock.
I just wish I would have done things a little differently… be more compassionate with you, more generous, and definitely more loving. I'm sooooo sorry that I failed you.
Please carry me in your heart, in your prayers and from time to time in your mind. Think of all of the great times, just those, focus on those rich experiences and as you begin to think about those experiences… your heart smiles with LOVE : ))
Psalm 116/117 – "For great is His love towards us, and the Faithfulness of the Lord endures forever." I cried for mercy, I said, "Lord save me." The Lord said "I will give rest to your soul.
I will give you the strength to face another day. To fight the good fight."
I pray that God would bring rest to your soul. I pray for only the best (which is very hard to come by) for you Karen. Only the best. Only the best. I want the best for your heart, I want the best for your soul. I want the best for your mind and body too.
Go and be the woman that God called you to be. Be the woman, Karen, that God created you to be. That is where you will find TRUE HAPPINESS.
God and I both desire that for you… Sweetheart, Karen, I love you so much. I love you so much, I love you soo deeply. I love you and would have given the World to you, I would have climbed mountains with you, I would have ran races with you, I would have danced the night away with you. I would have fully supported your growth and development.
The creation of a brand that excites you and gets you out of bed everyday. Your desire to help other woman… I fully support you and your ideas, I love you. I want only the best for you. I'm sorry that I never really verbalized my true feelings.
The experience that my father and I went through seems to have affected me more than I desire it to. I kept a guard up with my love. I only know it now after spending countless hours consumed by it. You will forever receive birthday cards, Christmas cards and many other things from my heart and my soul to yours.
Karen, I love you. No matter what, I love you. I love you fully, Bryan.
I appreciate everything that you have done and continue to do. For doing things that you didn't care to do, but you just did them, because you loved me. I am forever grateful for every time you did something for me and for you.
Because we were "one unit" operating together, towards a similar goal. For lifestyle, for health, for fun, for energy. For abundance and 1st class.
We raised our standards together and we made it happen. Without your support and energy I don't know where I would be without you. God is amazing. I'm going to miss my partner, my soulmate… I'm going to miss you Karen. Can I ask you a favor?
Can I ask that you HELP me during this transition? Can you be there for me, at least initially? Coincidentally, I hit a grand slam with this company I'm helping to scale their business to the next level… and that is when you choose to leave me. I really can't believe it.
I was not ready for this, to go down the way it's gone down. That part is shitty.
Please give me the time of day to express myself to you. It will greatly help with closure in my mind. That's what is important when you commit 100% to another person.
When you give them "your all" you help them dearly. I believe God would want it that way. God is a just God, a loving God, He is a forgiving God. He forgives before we could ever imagine forgiving. He is the ultimate example of what "perfect" is.
He is perfect. I still would like to have a friendship with you Karen. Even if you were unfaithful and un-loyal, I would still like to remain connected I just can't believe it still.
Next, I want to ask for your forgiveness, complete forgiveness. I ask that you receive my forgiveness (openly) and I ask that you share freely, God is my rock, my foundation, He is always there no matter what.
God is loyal and faithful, I put my trust in Him. Thank you Lord for these experiences (both good and bad). Thank you Lord for never leaving me nor forsaking me.
Thank you Lord for living within me. Thank you Lord for guiding my thoughts, for stabilizing my emotions. Lord, I love you. I give you all of the glory and honor and praise.
I stopped giving the Lord MY ALL and I am sorry for that Lord.
Sorry for not walking with, trusting and having an intimate relationship with Christ. Everything else will work out perfectly when I focus on my relationship with Christ. It will be a challenge, but God has already told us that we will experience suffering for his names sake.
4/22/2013
=========
Get my book, The Entrepreneur Evangelist, where I go deeper on my story and discover The Ultimate Secret To Success and the 3-step process God brought me through to hear his promptings and be guided by His voice.
Get Your FREE Copy here:
www.EntrepreneurEvangelist.com
In your corner,
Bryan Dulaney
"Bryan Dulaney is the Top 1% of All Marketers & Funnel Experts in the World!" – Tony Robbins