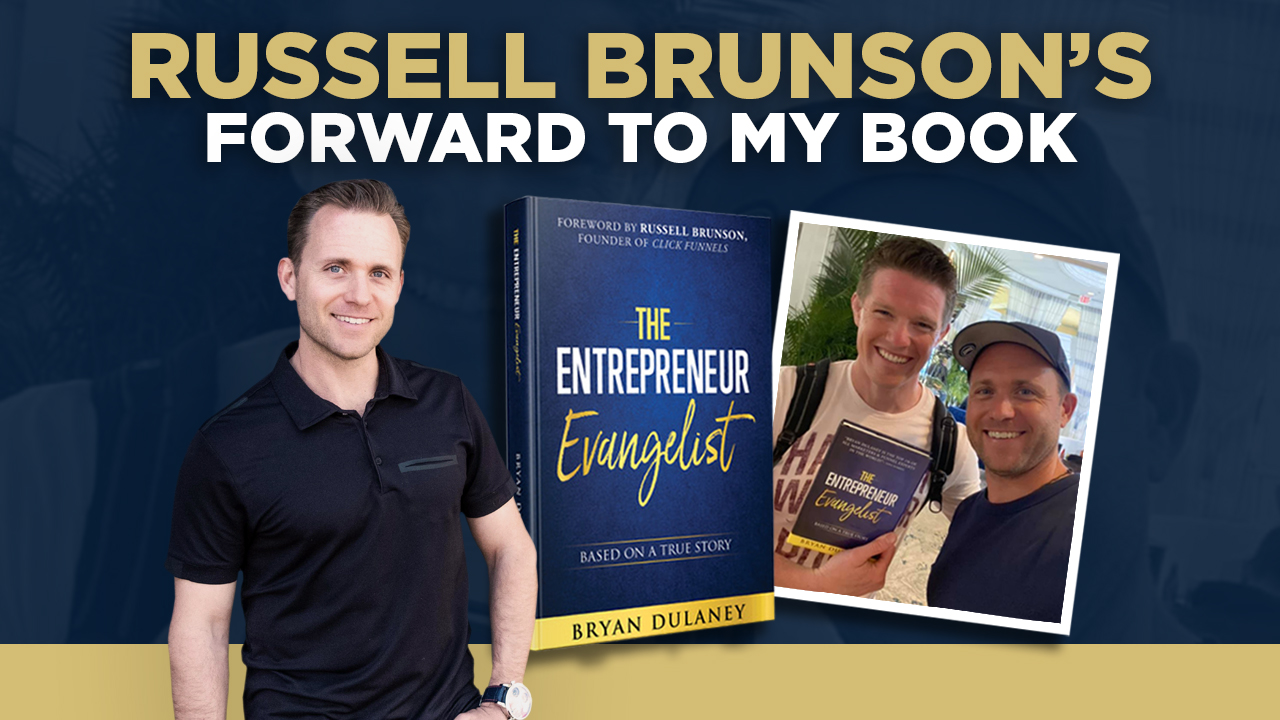 I was at a high level Mastermind in Florida this year (2021) with Russell Brunson, Tony Robbins, Dean Graziosi, Lewis Howes, Jenna Kutcher and the Top 10 Affiliate Partners for the second year in a row for Tony Robbins & Dean Graziosi (for placing #4 out of more than 4,000 affiliate partners) and I was able to give Russell a pre-release copy of my brand new book, The Entrepreneur Evangelist.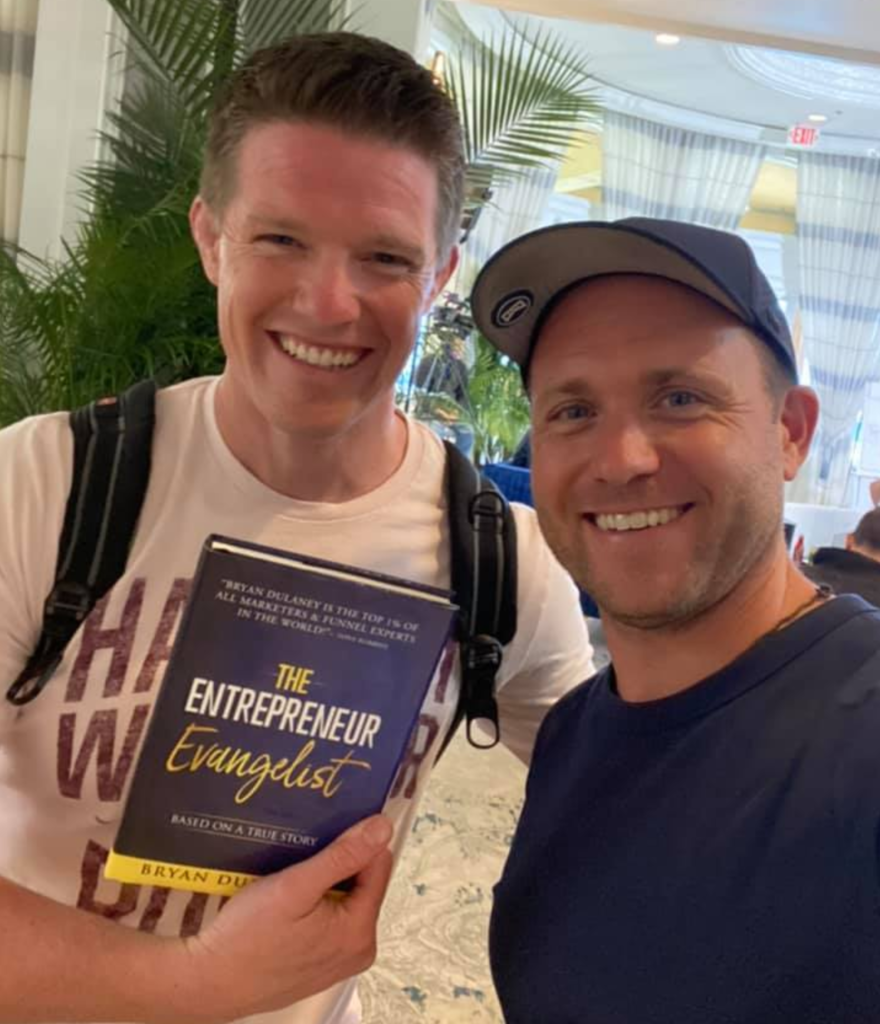 I waited a week and then asked if Russell if he would be open to writing the forward to my brand new book.  He said, "Yes!"
Here you can read the entire forward that Russell Brunson wrote for my brand new book:
Life is a journey few ever take.

It's riddled with its ups and downs, setbacks, pitfalls, regrets, mistakes, interspersed with fantastic successes.

It's these brief wins that keep us going. And it's also these that prevent most from ever moving forward and stepping into their true calling and potential.

I first met Bryan back in early 2010 when he was one of the first to generate thousands of leads for his clients through a software I had designed on Craigslist.

A few short years later we both connected again at the Traffic & Conversion Summit. While there I mentioned in passing to Bryan about an idea I had to empower entrepreneurs and businesses owners a chance to dominate the market online through what is now known as funnels.

What started as an idea that spurred on his immediate support and backing as one of the first affiliate partners for the program has now become a nationwide phenomenon known as click funnels.

It didn't take Bryan long before he dominated the ranks and ascended to the top of our affiliate partners when he won his first Dream Car Award.

The last I checked his current count was at 4 Dream Car Awards, 7 Two Comma Club Awards, 3 Two Comma X Awards, and 1 Two Comma Club C Award with more on the way!

These are awards we give to members of our community who generate one million, ten million, and twenty-five to one hundred million in revenue through click funnels.

Bryan's been at the top ever since, and we are immeasurably grateful for his support all of these years. We wouldn't have the impact we do today without people like Bryan in our corner.

But there's much more to him than his successes in the business world. Over the years I've been privileged to learn more about what makes Bryan tick and the motivation beyond his genius and drive to serve others and help them share their stories by sharing his own.

In Bryan's first book, The Entrepreneur Evangelist, he shares what that spark is and why he's made it his lifelong mission to serve others.

He shares the incredible true story of his near death experience where the doctors believed he was never coming back to now being one of the top 1% of all marketers and funnel experts in the world in just a decade.

Bryan's faith fuels him, and it's the vision God gave him when he came back to life that moves him to such great heights. He lives to help others share their stories by sharing his and to serve as an inspiration to others suffering, alone, or hopeless in a similar situation like he was to rise up and leave an impact on the world and the lives of others.

One of the best ways Bryan knows to do this is through marketing & selling your unique life experiences, knowledge, and expertise online through strategic mind mapping, development and launching & scaling.

My hope is that you're inspired by Bryan's amazing story after reading his book. I believe it will ignite the God-given spark that's lied dormant inside of you for years. His story will motivate you to unlock your hidden talents and gifts and become as successful as you wish to be while you impact the world in the business or calling you choose.

Bryan has created multiple success stories over the last decade and a half for those he's coached and mentored as they built and scaled their online efforts into empires. If there ever was the "real deal", that fits Bryan perfectly.

His methods are timeless treasures, and proven to work not only for him but for every person he's partnered with on their journey and business.

You will learn the secrets to breakthrough, perseverance, and never losing hope through Bryan's story. My hope, and I know Bryan too, is for you to find inspiration and hope from his story and use someone's experience like his to help you bring your own expertise online so you can scale your impact.

You're in for a special treat. I hope to see you on stage one day at the next Funnel Hacking Live to hand you your very first (and not last) Two Comma Award.

Much love,
Russell Brunson
Founder of Click Funnels
Grab your free copy (just pay shipping & handling fees) of my brand NEW Book, The Entrepreneur Evangelist.

We just printed 1,000 copies and you can get a personalized, signed copy along with instant access to the audiobook so you can start listening to the book while you're waiting for the physical copy to arrive at your doorstep!
May this book transform your life and business as it has for mine and set me on the path that God saved my life and saved me from my near death experience in 2003 at Slippery Rock University outside of Pittsburgh, PA.
I would love to serve you on your journey of launching your expertise, scaling your impact and building your legacy.
In your corner,
Bryan Dulaney
"The Top 1% of All Marketers & Funnel Experts in the World!" – Tony Robbins
(Spoken during the award ceremony for placing #5 on the Biggest Launch in Internet History for Tony Robbins, Dean Graziosi & Russell Brunson as their top 5 super affiliate partner).