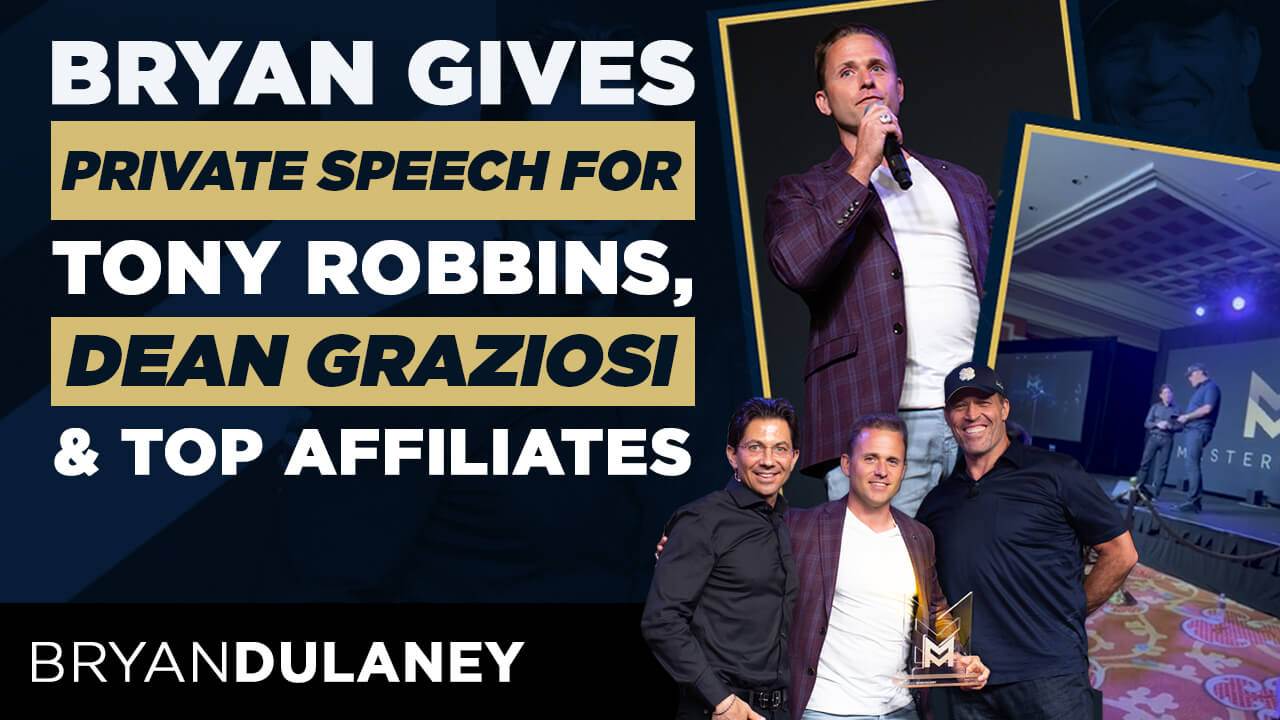 I was invited to share a private message at the Award Ceremony to the Top Affiliates on the Biggest Launch in Internet History for Tony Robbins & Dean Graziosi that generated more than $40M in just a few short weeks…
We landed Top 5 with less than two weeks to even prepare to promote the launch, which many have said is quite impressive considering how long it typically takes for people to think through their offers (what they sell), their funnels (how they sell what they sell), and their advertising strategy (how to get traffic to their funnels & offers).
Not for me, because this is what I live, eat and breathe every single day of my life and have been doing since 2006 and I absolutely love it.
Plus, the drive to be in the Top 10 was also to go to Tony Robbins Private Resort in Fiji and Mastermind with Tony, Dean, Russell Brunson and the rest of the Top 10 Affiliates.  I am looking forward to going for a second time!
You can listen to my short private message to the Top Affiliates here:
Here's what Tony Robbins said as he brought me up to the stage to receive the Top 5 Affiliate Award and to give the short speech to the Top 100 Affiliates in the room…
"One of the Top 1% of All Marketers & Funnel Experts… Bryan Dulaney… come on up, Bryan!" – Tony Robbins
Thank You Tony!  That is one of the best endorsements ever outside of receiving the Most Awards from ClickFunnels at Funnel Hacking Live this year for launching & scaling 7 & 8 figure businesses for our clients and partners we love and serve…
Here's what I said… and this is advice that you can apply to your life & business to create the success and results that you want to experience.
"First off, I want to give it up, and give a warm thank you to you guys (Tony Robbins & Dean Graziosi) for #1: Leading the industry.
When I was thinking about when I got asked to give this talk for 60 seconds, the number one thing I was thinking about was you guys raised the bar in setting your standard, which, Tony, you talked about for decades.
So, thank you from the bottom of my heart for doing that.
And it's about impact is what it's really about. So, thank you for impacting because millions of people will be impacted from this work.  Not just from people that are going to buy the course, but from the course… the impact that they're going to make.  So, I want to say thank you for that, first off.
And secondly, when I was thinking about what to say, what I thought was this, GO ALL IN, and invest in the next launch.
Go all in, really don't hold back.
You have the opportunity to rewrite history!
For me, when I first got into online marketing in 2006, I went all in in what I had, and that was $500. I made $20,000 in a week.  And that got me on my path.
When I went into this campaign I said, "I'm going to rewrite history."
We spent over $160K and made a half million dollars in commissions.
And we've generated $2 million in backend revenue already, which is awesome.
But it's about the impact.
And what I love about it is every single person that's come to our event, as a bonus for buying the course, has been so grateful…
So, I want to encourage you guys to go all in, don't hold back.  Have faith and expand your vision of what's possible, because like you saw from Dean earlier, when you invest you'll have a 10X return on that investment.  And I'm proof of that. So, thank you guys."
As you listen or read this short speech that I gave to the Top 100 Affiliates on the Biggest Launch in History for Tony Robbins & Dean Graziosi… I would like to encourage you to apply this advice to your life and business.
#1: Go All In On You & Your Vision
When I first started my online marketing career back in 2006, I went all in and invested $500 into ads and thank God that came with a phenomenal return because 10 people purchased a $2k course through me as an affiliate.
(Just like more than 500 people have done with Tony Robbins & Dean Graziosi's course)
Whatever it means to you to "Go All In"… I would encourage you to go all in, because dabbling or treating your business like a hobby will only result in hobby results and results that you probably won't be happy with.  At least that's my experience after doing this for more than 14 years now.
Also, go all in on you means investing in yourself and your growth.
The most successful people on the planet invest in themselves.  They buy access to information that works now.  They buy access to mentors and coaches who can help them avoid pitfalls that may trip them up on their path.  They buy access to solutions like done for you solutions to help them accelerate their learning curve and thus their results.
I always say, "the fastest way to get where you want is to find and hire those who have achieved the results that you want to achieve yourself."
If you need help with your funnels or creating winning offers (products & services) that you introduce to your ideal audience, we can help!
Our Agency, Perfect Funnel System, can help!  Click here to schedule a call with one of our Marketing & Funnel Experts.
We have helped more people hit 7 & 8 figure success than any other agency in the entire ClickFunnels community and we have the awards to back it up.  We can help you too.
#2: It's About Income & Impact
It really is about the impact over the income.  The income is great and is measuring stick for how well you are impacting other people's lives because people vote with their pocket books and credit cards.
The real satisfaction comes from the impact.
Think about it.  You impact one person's life and how many people will they impact.
I call it the "Ripple Effect" and it happens when you set yourself on a mission to turn your knowledge, skills, expertise and results that you're able to produce into a business that blesses others.
#3: Lead Your Industry
You don't become the leader of your industry by Luck or Chance… in most cases.
You become the leader of your industry by adding value, serving and transforming people's lives.
Look at Tony Robbins & Dean Graziosi who are leaders in their respective fields.  Tony has been serving and transforming lives for more than 40 years and Dean has been doing the same across multiple industries that he has served.
Choose today to add massive value, serve first and produce results for those who need your help and pay you to help them.
In summary, when you go all in on you and your business… you are also going ALL IN on those who you are called to serve.  This is what it's about.  Especially as you are an expert in your craft or have been able to create results that others want.
Listen, the world is waking up to the fact that they need to invest in and hire those who have the results they want.  This is why Forbes.com has predicted the Self-Education industry will triple to $1B per day.
Again, if you need help… that's what we do every single day.  We own a full service digital marketing agency and not only do we build funnels… but we help experts, authors, speakers, coaches and consultants to launch & scale their expertise online so they can impact those who they want to serve.
Click here to schedule a call and discover how we can help you too… just like we have done for all of our clients and have been able to do for Tony Robbins & Dean Graziosi as well.
In your corner,
Bryan Dulaney
P.S. How would you like me to share the behind the scenes of what went into Winning Top 4 & Top 5 on the Two (2) Biggest Launches in History for Tony Robbins & Dean Graziosi?  If you would, let me know by emailing support@perfectfunnelsystem.com or private messaging me on Facebook here and letting me know what you would like to discover?!