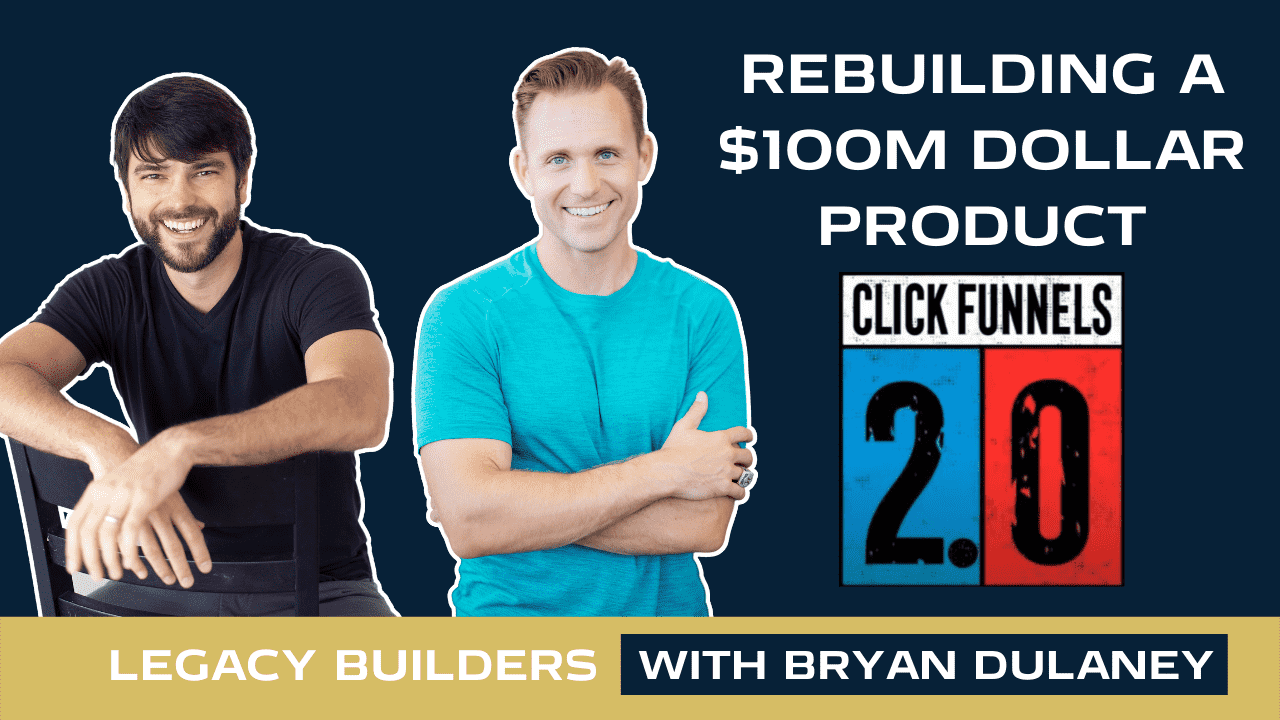 Have you been thinking like I've been thinking, "When is ClickFunnels 2.0 going to launch and be revealed?"
I have been chomping at the bit to get my hands on CF 2.0 since Russell Brunson told me about it when we were masterminding privately with Tony Robbins at his new studio in Florida…
On this week's episode of Legacy Builders, I am excited to announce an interview that I just filmed by Todd Dickerson, co-founder of ClickFunnels – the top online funnel platform used to help entrepreneurs get their message out to the marketplace.
Todd has always been dedicated to bringing value to the world.
This dedication is what catapulted the company from $0 to over $100,000,000 in annual sales and 68,000 customers in just over three years from their launch in September of 2014.
As of today, they are sitting at over 100,000 users and with the release of ClickFunnels 2.0 they are primed for even more explosive growth.
Today, we dive into the nitty gritty of ClickFunnels 2.0, the future of the platform and the importance of momentum.
Don't miss today's episode… it's a great one!
Subscribe to this podcast on:
* Apple Podcasts: https://apple.co/3zZ3SYH
* Google Podcasts: http://bit.ly/Legacy-Builders-Google-Podcasts
* Spotify: https://spoti.fi/3Gs3nJ5
Learn more about Todd Dickerson and connect with him further:
* Linkedin: https://www.linkedin.com/in/todddickerson/
* Instagram: https://www.instagram.com/todddickerson/
* Twitter: https://twitter.com/todddickerson
Learn more about Clickfunnels at https://www.clickfunnels.com/
Learn more about Bryan Dulaney at https://bryandulaney.com/
Your expertise powered by the right system can change the world! Start now at https://www.launchexpertise.com
Get a free copy of Bryan's book, The Entrepreneur Evangelist, at https://www.entrepreneurevangelist.com/get-your-copy-while-supplies-last
Build, launch, and scale your business online with Perfect Funnel System! Start now at https://www.perfectfunnelsystem.com/
Subscribe to Bryan Dulaney's YouTube and watch episodes of this podcast and more: https://www.youtube.com/c/bryandulaney
Connect with Bryan Dulaney:
* LinkedIn: https://www.linkedin.com/in/bryancdulaney/
* Facebook: https://www.facebook.com/bcdulaney
* Instagram: https://www.instagram.com/bryandulaney/
* Twitter: https://twitter.com/bryandulaney