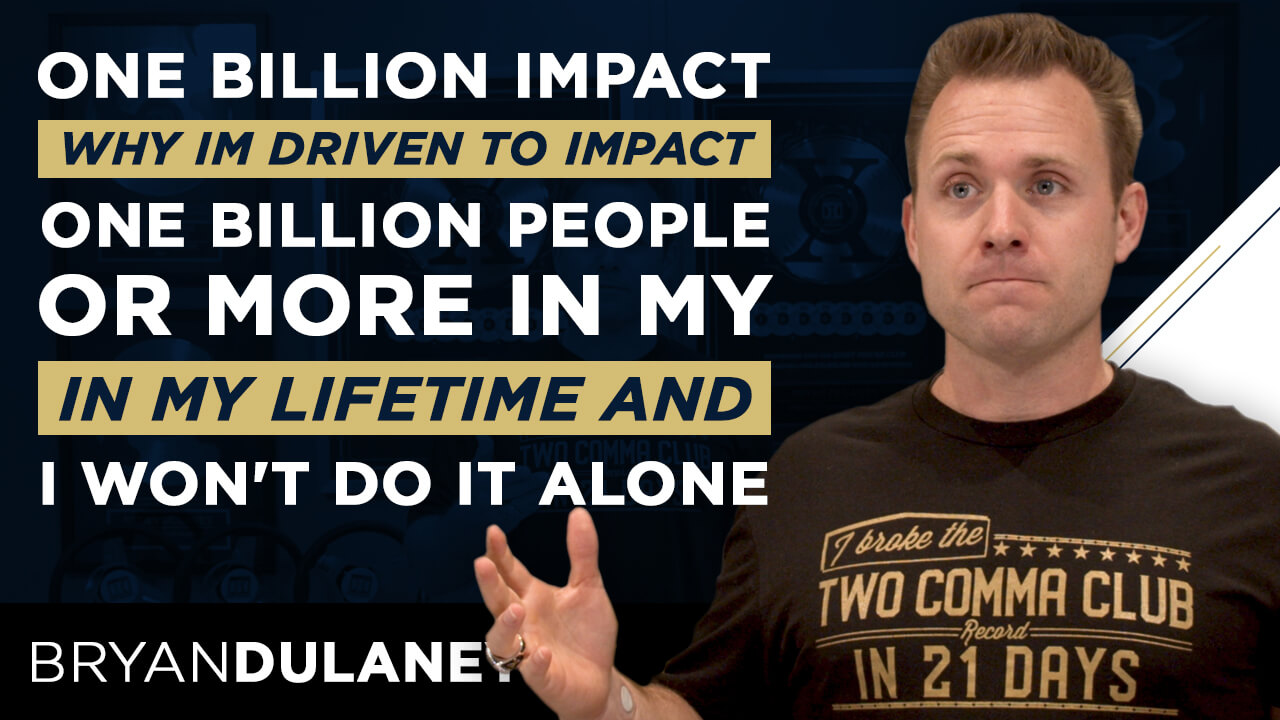 In this video, I share my driving forces (my why) behind the reason to impact one billion people during my lifetime and how I need your help.
By myself, I can impact a lot of people's lives.  Together, we can change the world and make a dent in the universe like Steve Jobs talked about.
What is the driving force that gets you out of bed in the morning?
For me, it's my souls purpose.  It's the reason I believe I was saved from being declared DEAD back in 2003.
You see, I went on a journey to figure out what my purpose is and after two years of seeking… God revealed it to me.
He said, "share your story and help others share their story."
At the time, I had no idea what that meant.
Fast forward more than 10 years later and eventually I realized that the work that I've been doing for the past 14 years has equipped me to help others share their story in a way that makes an income for you and an impact.
And both of those need to be married together.  You can have one without the other, unless you want to build something that is short lived.
I don't know about you but I'm interested in building a legacy.  A legacy that goes far beyond me even my time here on earth.
Now, one thing that you should know that is coming right around the corner is Tony Robbins & Dean Graziosi have a big launch and they will be sharing…
How to turn what you ALREADY KNOW into extraordinary Success and impact.  You don't want to miss this free live training.
You can click here to get on the waitlist to be notified when they go live.
Why We Do It? 
FREEDOM.  We want to see more people set free and have freedom in their lives.  Free in every area of life, not just financially.  Freedom in every area of your life.  It is your time to experience freedom.  Finally taste freedom.
– Over 1,000 videos submitted (success stories & documented wins)
– 150,000+ comments per month in the Facebook Group (a real movement has begun)

Why We're Going ALL OUT with Our Bonuses?
– We are ALL IN for you!
Deans Vision of The Future
– We Help Trainers Train The World
– A Real Movement
Deans Next 10 Year Prediction: 
1. If you die with knowledge in your head, you should feel guilty as hell.
2. When you go to a job interview or you're going to partner with someone, they say, "yea yea… great you went to college, but where did you get your self-education?"
"If you were to do these two things, we will change the world!" – Dean Graziosi
Listen to what Dean Graziosi has to say about why you should get all of our 15+ KBB Bonuses before you purchase Tony Robbins & Dean's course and software to help you turn your skill or knowledge into a business that blesses others…
Click here to see all of our bonuses that you get for free when you use our link to purchase Tony & Dean's brand new course, Knowledge Broker Blueprint and Mindmint Software.
If you have any questions reach out and let us know how we can help.  We are here to support you and our team of more than 20 people are at your service.
In your corner,
Bryan Dulaney
Did you see interview question #1 about "why Dean Graziosi is so passionate about masterminds and the self-education industry?"  Read more and watch the interview here.
Also, watch this interview with Dean where we asked him, "When getting started: Why masterminds among anything else?"