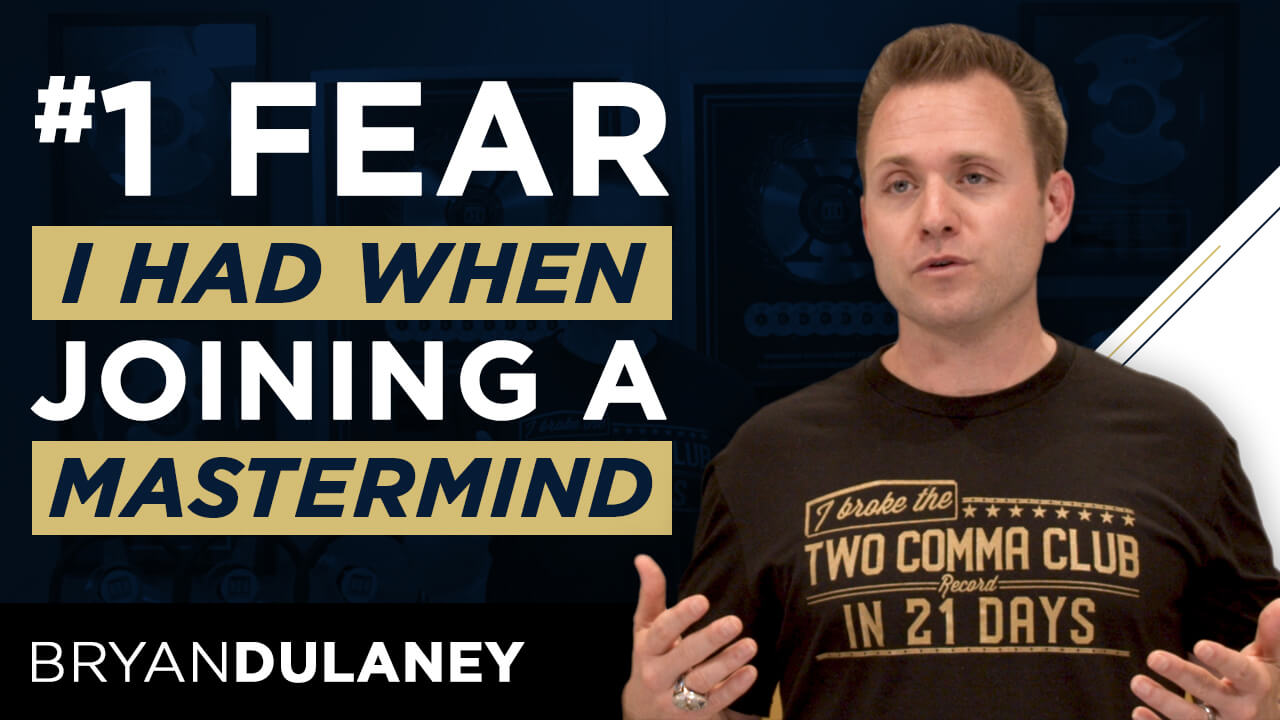 In this video, I share my #1 fear I had when joining a high level mastermind that was $25k.
My #1 Fear When Joining A Mastermind was "Would it pay off or be a waste of money?"
Have you ever had that thought with a course?
Have you ever had that thought with an event?
Have you ever had that thought with a service?
Have you ever had that thought with a mastermind?
I had it too.
The first time I was asked to part with $25k, I remember having this same fear pop up, (false evidence appearing real) hitting me in the gut and it wanted me to stay small.
Don't you just love how your fight or flight instincts kick into gear and try to convince you of playing small, or staying in the comfort zone (what you know)?
In this story, in my first year of this high level mastermind, I was given simply one shift in an idea and that gave me the clarity and the vision I needed to move forward with confidence.
I launched it and it produced more than 12X ROAS (return on ad spend).
The 2nd year, in the same mastermind, I met just one client and helped them to CRUSH IT (2CCX super fast) and many of you know my story of how I helped Ryan D. Lee & Brad Hart with their brand – Cashflow Tactics.
So, if you think about it… that's 20 years worth of masterminds at that level from just 2 years of joining that high level mastermind where I felt the fear pop up.
I'm glad I didn't let fear get in the way of that investment into my future success. Don't let fear get in your way of success either. Surround yourself with the right coaches who can give you the confidence you need when you just don't have it for yourself. It happens to the best of us.
You're not alone.
You see, Tony Robbins & Dean Graziosi had the biggest launch in history that broke the internet last year… and they are going to do it again this year.
The launch begins February 19th and closes down on March 9th at midnight!
Now, one thing that you should know that is coming right around the corner is Tony Robbins & Dean Graziosi have a big launch and they will be sharing…
How to turn what you ALREADY KNOW into extraordinary Success and impact.  You don't want to miss this free live training.
You can click here to get on the waitlist to be notified when they go live.
Why We Do It? 
FREEDOM.  We want to see more people set free and have freedom in their lives.  Free in every area of life, not just financially.  Freedom in every area of your life.  It is your time to experience freedom.  Finally taste freedom.
– Over 1,000 videos submitted (success stories & documented wins)
– 150,000+ comments per month in the Facebook Group (a real movement has begun)

Why We're Going ALL OUT with Our Bonuses?
– We are ALL IN for you and have created The Best KBB Bonus Package on the planet.
Deans Vision of The Future
– We Help Trainers Train The World
– A Real Movement (24,000 people from 2019 and many more will be joining this year)
Dean Graziosi's Next 10 Year Prediction: 
1. If you die with knowledge in your head, you should feel guilty as hell.
2. When you go to a job interview or you're going to partner with someone, they say, "yea yea… great you went to college, but where did you get your self-education?"
"If you were to do these two things, we will change the world!" – Dean Graziosi
Listen to what Dean Graziosi has to say about why you should get all of our 15+ KBB Bonuses before you purchase Tony Robbins & Dean's course and software to help you turn your skill or knowledge into a business that blesses others…
Click here to see all of our bonuses that you get for free when you use our link to purchase Tony & Dean's brand new course, Knowledge Broker Blueprint and Mindmint Software.
If you have any questions reach out and let us know how we can help.  We are here to support you and our team of more than 20 people are at your service.
In your corner,
Bryan Dulaney
Did you see interview question #1 about "why Dean Graziosi is so passionate about masterminds and the self-education industry?"  Read more and watch the interview here.
Also, watch this interview with Dean where we asked him, "When getting started: Why masterminds among anything else?"